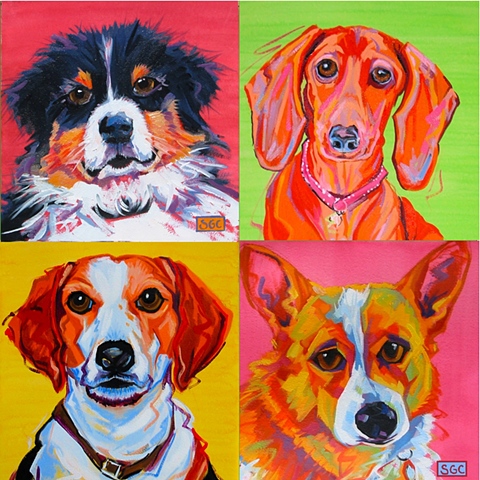 I paint dogs.
Or, as it seems to me, people in fur suits.
Just like the people in our lives, dogs are our friends, our family, our confessors, our consolers, our loyal supporters and our biggest fans. And, also like people, they come in all shapes, sizes, and colors with quirks and colorful personalities to match.
That's the goal of these portraits I call Color Dogs: to capture the energy and spirit of your animal friends as well as their faces. I do it with color play and brushwork, with whimsy and an instinct for who I'm meeting when I look through your photos. You've got a camera, right? A Color Dog portrait is more than just a photographic record. What emerges is an uncannily accurate impression of the unique person your dog actually is. You know that. He/she knows that. And now you'll have a painting.
A custom portrait of your own Color Dog.
Painted just for you, by me,
Sarah Gayle Carter.